Publication of New LIS Book, Edited by Janet C. Gornick and Markus Jäntti
Income Inequality: Economic Disparities and the Middle Class in Affluent Countries
Edited by Janet C. Gornick and Markus Jäntti
Stanford University Press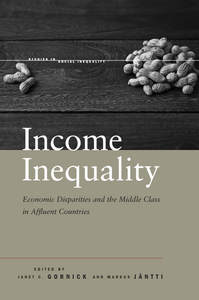 This state-of-the-art volume presents comparative, empirical research on a topic that has long preoccupied scholars, politicians, and everyday citizens: economic inequality. While income and wealth inequality across all populations is the primary focus, the contributions to this book pay special attention to the middle class, a segment often not addressed in inequality literature. The research also casts important light on how economic inequality affects and is affected by gender disparities, labour markets, institutions, and politics.
Written by leading scholars in the field of economic inequality, all 17 chapters draw on microdata from the databases of LIS, an esteemed cross-national data center based in Luxembourg. Using LIS data to structure a comparative approach, the contributors paint a complex portrait of inequality across affluent countries at the beginning of the 21st century. The volume also trail-blazes new research into inequality in countries newly entering the LIS databases, including Japan, Iceland, India, and South Africa.
"This is one of the most important books on inequality published in the past decade. Focusing on what has happened to the middle class since the 1980s, during a period of substantial economic and political restructuring, this volume's remarkable insights and influence will span disciplines."

—Jason Beckfield, Harvard University
To purchase this book, click here.